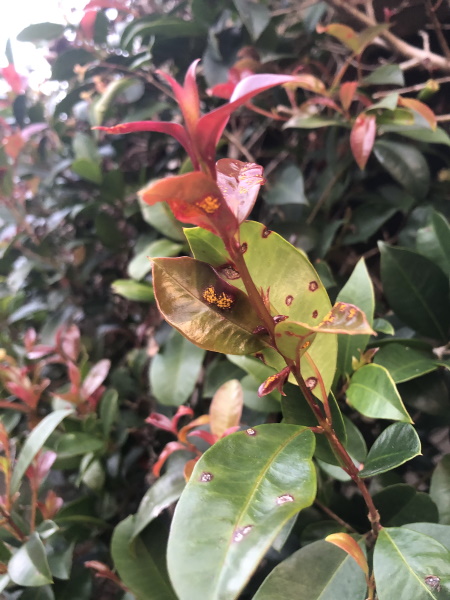 I'm Renee Johansen, the communications leader at the research programme 'Beyond Myrtle Rust'. We are asking outdoorsy people across New Zealand to report myrtle rust on iNaturalist this summer. The disease is most likely to be seen when the weather is warm and wet. The image attached shows 'lilly pilly' – a popular hedge plant – but the symptoms look similar on most native forest plants. For more examples of infected plants, see here: https://www.myrtlerust.org.nz/identifying-myrtle-rust/.
If you have any questions, don't hesitate to contact me. Also, please consider following us on social media. You can follow Beyond Myrtle Rust on Facebook, Twitter @byondMyrtleRust and Instagram @beyond_myrtle_rust.
Kind Regards
Dr Renee Johansen
Project Manager/Communications Leader: Beyond Myrtle Rust
Manaaki Whenua – Landcare Research
M +64 27208 8483
54 Gerald Street, Lincoln, 7608
www.landcareresearch.co.nz/beyond-myrtle-rust
Twitter: @byndMyrtleRust Instagram: @beyond_myrtle_rust
Report myrtle rust on iNaturalist this summer
Beyond Myrtle Rust is asking the tramping and walking community to keep an eye out for the plant disease myrtle rust this summer. The fungus that causes myrtle rust infects exotic and native plants from the myrtle family, including pōhutukawa, rātā, ramarama and mānuka. You could see it in your neighbourhood, or when you are out in the bush. You can learn more about the disease on the Beyond Myrtle Rust FAQ. If you find myrtle rust while out and about, please report the find on iNaturalist.
How to spot it
Myrtle rust looks like pustules of rust-coloured pollen. The disease is most commonly found on new growth, including young leaves, stems, buds and flowers. When the infected growth starts to die, the bright colour of the pustules fades. Once the new growth dies, the plant can look singed around the edges.
Other plant diseases can look a little like myrtle rust, so the best indicators are 1) the yellow pustules and 2) the host plant. Myrtle rust only infects plants from the Myrtaceae family. For more information on native and exotic myrtles found in New Zealand, check out the NZ Myrtaceae Key.
How to report myrtle rust
To report a suspected case of myrtle rust, you can download the iNaturalist app onto your phone or make an account on a laptop or desktop. Then follow these steps:
Take a photo of the plant – but don't touch the diseased area!
Upload photos of the infected plant into a new observation.
In the "what did you see?" section, type in "myrtle rust".
Depending on your phone's privacy settings, you may need to add the location manually. Otherwise, the location field should fill in automatically.
It is very helpful for researchers to know what you think the host plant is. If you'd like to make a guess, please add this to the "Notes" section.
What happens next
Researchers in the myrtle rust community will help confirm the record and the host plant. This will then be compiled on the iNaturalist platform to give researchers, land managers and the public a clearer idea of where the disease is spreading. If your record is in a new area or on a new host, you may even see action by local government to confirm the sighting.
Happy tramping/walking/(photography – ed) and remember: keep your gear clean to protect our native plants.