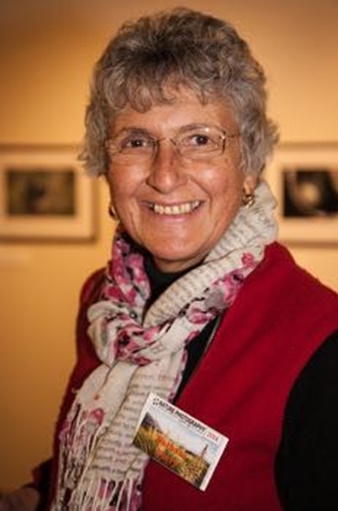 Barbara Burry passed away early on Friday 10 February at Waikari Hospital after a long illness. Barbara was a talented photographer and a long-time member of NPSNZ. It was a sad day for her family and friends from NPSNZ. She had been an active member of many photography clubs prior to her illness, including Amuri, CPS and PSNZ. She was also very competitive and gained many awards over the years.
Barbara grew up in Sydney where she eventually trained in Pharmacology. After an adventurous OE, she returned to Sydney where she had a long and successful career as a Pharmacist. It was thru her work in medicine she eventually met Hugh Burry in the late 80s. Hugh had been a GP in New Brighton, the All Black No8 (11 tour games for the All Blacks in 1960), an innovator in sports medicine, and in 1988 became Professor of Rehabilitation Medicine at Melbourne University. Barbara eventually moved to Christchurch with Hugh.
In 1991 they "retired" to Hanmer Springs. Soul mates, together they remodelled a beautiful home to suit their new lifestyle. They established a stunning and productive garden which featured many unique plant species. She kept a detailed garden journal. They even set up a small sheep farm and learned to farm together. Barbara
sometimes related stories about this time which conjured some hilarious images for her listeners! The "City
Girl" and her "All Black Man" thrived together in their country living. Hugh sadly predeceased Barbara (June 2013). Even after his death, Barbara enjoyed gatherings with his All Black mates. She was a fashionista and loved vibrant colours. She was happiest, however, clothed in Hugh's well-worn dark leather bomber jacket which soon became her signature. Although they had long given up farming, she remained in their Hanmer Springs home until she went to Waikari Hospital just prior to her death.
Hugh's three sons and their families have been a huge support to Barbara over the years. She was especially grateful for their tech expertise and for their caring, especially after her diagnosis and her ensuing journey with it.
Barbara threw herself whole heartedly into her endeavours. This was her character. She and Hugh loved Hanmer Springs where they each made many contributions to the community. Her photos can be enjoyed in venues around the town. She was immensely proud to have her photographic images featured on some of the seasonal flags which adorn the streets of this little town where they made many friends who, along with family and many others, sustained her in her last year. Some days a whole crew of neighbours could be found in her garden clipping and detailing it. They chopped wood for her fireplace. They picked fragrant flowers to provide her pleasure. They brought food and caring. And Barbara would be in her driveway, in her well-worn and loved warm boots, overseeing all and providing direction!
Barbara was a fiercely independent woman. She lived a full and interesting life. She loved gardening, tramping and photography. She loved to share her passions and instruct us. She claimed to have invented "Blurry Shit"(ICM) in the Forest at Hanmer. She was in her element exploring the nooks and crannies of New Zealand well equipped with her camera gear. She liked to share her talents and her door in Hanmer was always open, as many of us came to know and enjoy. She was powerful, interested, fair, generous, direct, demanding; courageous to the end. Most of all she was a friend to many and a powerful inspiration. Barbara Burry has left a significant legacy of photographic work. She will be missed by many.