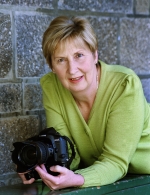 I was raised on a farm near Balclutha but came to Christchurch at the age of 18 and have lived there ever since.
My first job was in Radiography, which gave me my first taste of developer and fix. Time was also spent working for photographers as a dark room technician and as a photo finisher.
Eventually I joined the New Zealand Police and of the 32 years working there, the last 20 years were as a Police Forensic Photographer, where I worked with 4 x 5, 120, and 35 mm format cameras. I was developing and printing in black and white, and eventually moved on to 35 mm in colour, and producing images in Photoshop.
As you can imagine the photographs I took then were very factual and some times brutal so now I enjoy the softness and dreamy looks of flowers, being creative and doing abstracts. But I also love the chase for the fungi and alpine plants when I can go looking for them.
Over the years I have contributed to club activities with Christchurch Photographic Society and Nature Photography Society of NZ, having served on the committee of both Clubs, convened the Trenna Packer Salver Salon and the Laurie Thomas Winter School.
Also I have been on the team of the PSNZ Camera Book, judged for Clubs, Exhibitions and Salons, and in 2014 organised the NPSNZ Exhibition at the Museum to celebrate 20 years of the society.