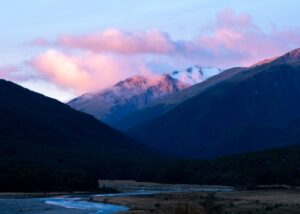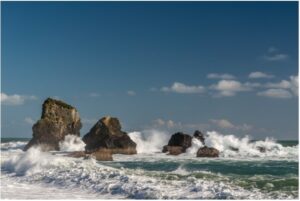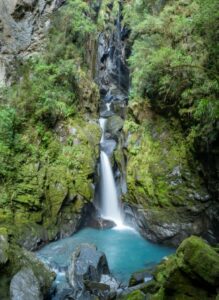 21 to 24 April 2022
This trip was organised by James Thompson during a period of uncertainty regarding COVID-19 restrictions. About three weeks prior to the trip the COVID settings moved from Red to Orange meaning the trip could go ahead with little restrictions. This report captures each day of the trip and thanks to the members who help with this.
Thursday 21 April
Ken and Kathy Muscroft-Taylor
Two groups stayed in Franz Josef Wednesday night having left sunny Canterbury and experienced the 1st lot of heavy rain with thunder & lightning but it was nothing compared to Thurs pm when it fell like a waterfall !! Thurs am dawned fine but heavy mist hung over the Waiho River (see photo) and set us up for interesting photos.
The South Westland film at the Tourist Centre was worth watching. The kiwi & tuatara house has been upgraded since our last visit. The waves at Bruce Bay were angry & huge against the rock wall.
Some left Chch early Thurs am and had an interesting drive in the pm through very heavy rain. This rain raised Lake Paringa by about one & half metres, which drained back out over the next 2 days and we were then able to access the jetty giving good lake views.
All the group made it to Paringa by early evening. Accommodation was in shared and individual units, with a mix of cooking facilities.
Friday 22 April
Peter McCusker
After an excellent brief from James on Thursday evening many decided to do the Monro Beach walk the next morning to kick start the weekend.
Friday was a beautiful clear day and the 4.7 km return walk to Monro Beach was well worth the effort. An excellent track with numerous ancient Rimu just dripping with ferns, lichen and numerous epiphytes. The birdlife was in full chorus but no penguins at this time of year. The shoreline saw a big westerly swell rolling in and some very interesting rock strata patterns. Very harsh light for photography but impressive coastline.
During lunch James informed us of a gravel road that followed the Whakapohai river to an impressive driftwood covered beach. The afternoon saw many visit Ships Creek and walk the ancient Kahikatea swamp forest boardwalk. Sunset was enjoyed by several at Whakapohai beach again trying to photograph big westerly swells while keeping your feet dry. The day was topped off with an excellent potluck dinner ( Sticky date to die for thanks Andrea ) and some torchlight eel spotting off Lake Paringa jetty.
Saturday 23 April
Carolyn Collins
Saturday dawned foggy and I staggered the few metres to the jetty for an hour of delight and awe, punctuated with the death of several hundred sandflies. Seeing a fog bow made my day….my week…my month…no, my year!!!
A return to Ship Creek was next and the magnificence of the ferns, giant trees and bird song was sublime.
Waiting for sunset at Bruce Bay, we were treated to an epic light show that was the perfect finale to a most splendid day.
Ed – A second pot luck dinner was held this night. By splitting the pot lucks over two nights we found that there was a perfect amount of food and very little wastage.
Sunday 24 April
James Thompson
Most of the group began their travels back home this morning. Four members grabbed an extra night at Lake Paringa Lodge before heading off on Monday.
Andrea and I headed home through the Hasst Pass. I was very keen to get some photos of a couple of waterfalls in some canyons. The first of these was just downstream of the Fantail falls and the second in Wilsons Creek up the road a little from the fantail falls car park. I was a bit nervous about going into the falls based on all the rain we had over the last few day but the concern quickly dissipated once the falls were found.
After looking at the falls we set up a tent (ask Andrea about the tent as it surprised her) at the DOC Cameron Flats campground and enjoyed seeing an alpine sunset.
Many of the members expressed the desire to have another field trip back to this beautiful part of New Zealand. A November trip in the future may offer the opportunity to see and photograph the Fiordland Crested Penguin.
Thanks to all members who came on this trip and made it a great experience.